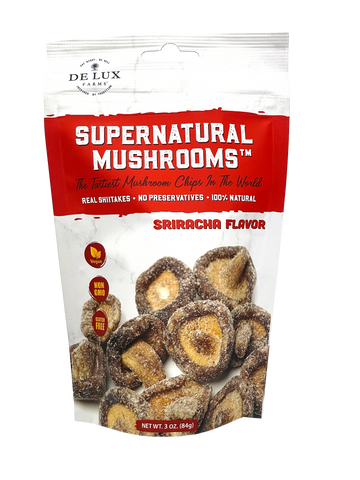 Supernatural Mushroom Chips - Sriracha
Bringing farmers and food lovers together with delicious snacks.
Plant-based eating at its best!
• 100% Natural
• No Preservatives
• Real Shiitake Mushrooms • Non-GMO
• Gluten-Free
• Low Saturated Fat
• Low Sodium
• Cholesterol Free
• Vegan
• Savor the Flavor
The savory, crispy, true to your tastebuds mushroom snack - Made from sustainably grown fresh mushrooms. Respecting our planet and supporting small farms - providing housing, healthcare, and hope.
Our mushrooms are grown in the renowned Dahong Shan Mountain Region, known for producing the best-tasting Shiitake mushrooms in the world. We handpick each mushroom at the peak of flavor. Packed with nature's goodness, they contain no artificial flavors or ingredients. Better for you and better for the planet! We forage so you can crunch and munch.