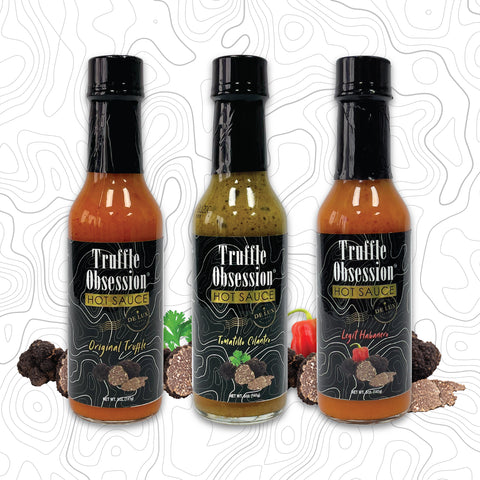 Truffle Obsession Hot Sauce - 3-Pack
Rich, thick, and delicious hot sauce infused with white truffle oil. Amazing on everything from fries to fried chicken, tacos, burgers, pasta to popcorn. The sauce with the power to make any meal rich, truffles are one of the most expensive foods in the world.

California is known for some of the best Mexican cuisine in the nation. Our sauce is a great marriage between Italian truffles and Mexican hot sauce. Truffle Obsession is becoming nationally and internationally recognized as a culinary treasure all its own.

It all started on the south side of Detroit When Harry met Martha - they went on a trip to Italy and brought back Italian white truffles. They loved the flavor so much, taking them to every restaurant they went to - shaving some of the truffles over their dish, sharing with anyone that cared to try this Italian delicacy.

Harry and Martha loved to try different cuisines from all over the world. Friend and local restauranteur Rodrigo added the white truffles to his homemade habanero sauce. This was a match made in heaven - his hot sauce and Italian white truffles were an instant hit. Short story long… decades later Harry and Martha's grandson Alan brought the recipe back to life for everyone to enjoy a new truffle obsession.

It has been said that some ingredients in Truffle Obsession Hot Sauce play an essential role in fighting inflammation, heart ailments, and cancer.
Original: Aged cayenne red peppers bring out the truffle flavors in a beautifully balanced sauce.
Tomatillo Cilantro: Zesty and fruity, an herbal infusion like a sexy salsa verde with infused truffles.
Legit Habanero: Unlike any other hot pepper. Fruity, floral, sweet, and bursting with the perfect amount of heat. Welcome to the extra hot zone with an unforgettable flavor profile of truffles and spicy habanero peppers.
Low Sodium; Cholesterol Free; All Natural; Sugar-Free; No MSG; Gluten-Free; No High Fructose Corn Syrup; Certified Non-GMO; and Kosher.