Perfect Earth's Cold Peanut Pasta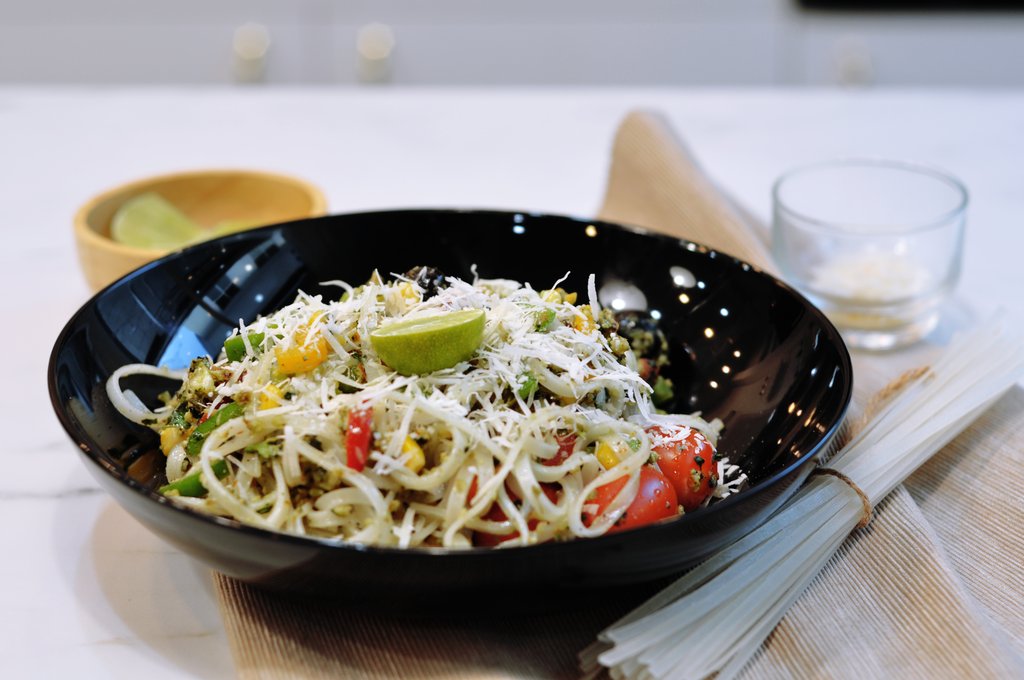 This healthy vegan pasta recipe was created by our Chef Prempak!
Ingredients Serves Four
45 g Canned Corn

30 g Sliced Black Olives

2 Fresh Limes

30 g Italian Basil

30 g Garlic

60 g Sliced Almonds

25 g Parmesan Cheese

3 tsp Salt

1 1/2 tsp Pepper

5 tsp Oil
Directions
Bring 4 cups of water to a boil. Add the Perfect Earth Rice Pasta – Pad Thai to the boiling water. Stir gently and cook for 8-9 minutes or until you reach your desired texture.

Rinse the pasta in cool water and drain. Set it aside in a large serving bowl. 

Add the oil to a pan and saute the basil, almonds and garlic until the almonds and garlic turn light brown. Then set aside the basil, almonds and garlic in a small bowl.

Set the pan on medium heat and add the pasta, the basil, almond and garlic mix, and add the corn and olives. (If you have the time and access to good fresh corn, this will make the dish even better). Mix all the ingredients and stir.

Put the mixture into the serving bowl, add the salt and pepper, squeeze the limes and mix all the ingredients well.

Serve onto plates and sprinkle parmesan cheese on top.
---
In Same Category
Related by Tags